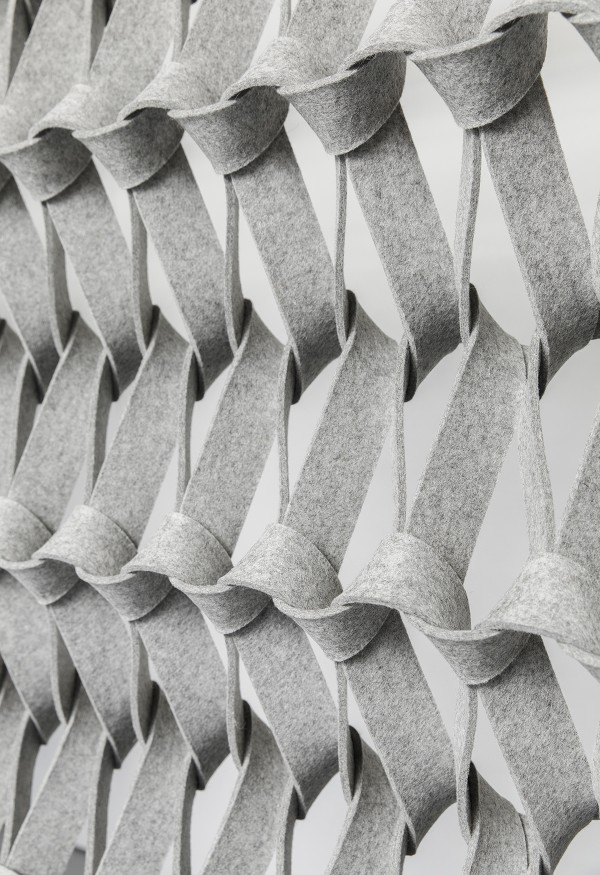 Behind the Design
Plectere
For the last thirty years, Dutch designer Petra Vonk has experimented with knitting techniques and textile design, working closely with architects and interior designers to elevate her work beyond the traditional functions and applications associated with textiles.
After fifteen years in the fashion world, Petra returned to work in her original area of study: interiors. Her design experiments and use of repetition in abstract patterns led her to translate her smaller-scale work from her background in fashion into large-scale structures for interior and architectural applications.
We caught up with the Amsterdam-based designer to chat about how her background in fashion has informed her current work in interiors, how Plectere evolved, and our shared love for natural materials.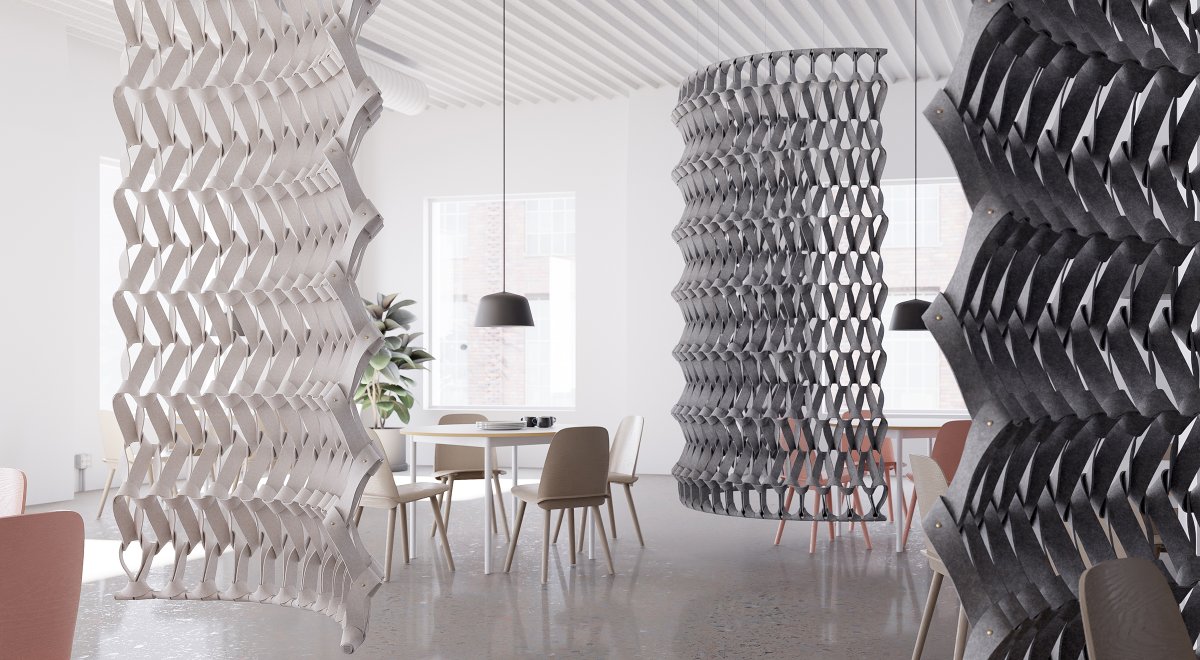 What feelings do you want this design (and your work in general) to elicit?
Warmth, comfort, privacy, tactility, craftsmanship, beauty, fascination.
Where do you look for inspiration when starting a new project?
First and foremost, in knitting techniques and, of course, in materials. I am very fond of materials in general and the strange combinations of uses of various materials. And more than anything, I like to make knittings with a-typical materials. This is how Plectere developed.
What inspired Plectere specifically?
Enlarging knits in general and making structures that have nothing to do with fashion, but rather constructing architectural structures made with textiles. (Pictured right: Composite cladding panels for School in Tilburg, 2012)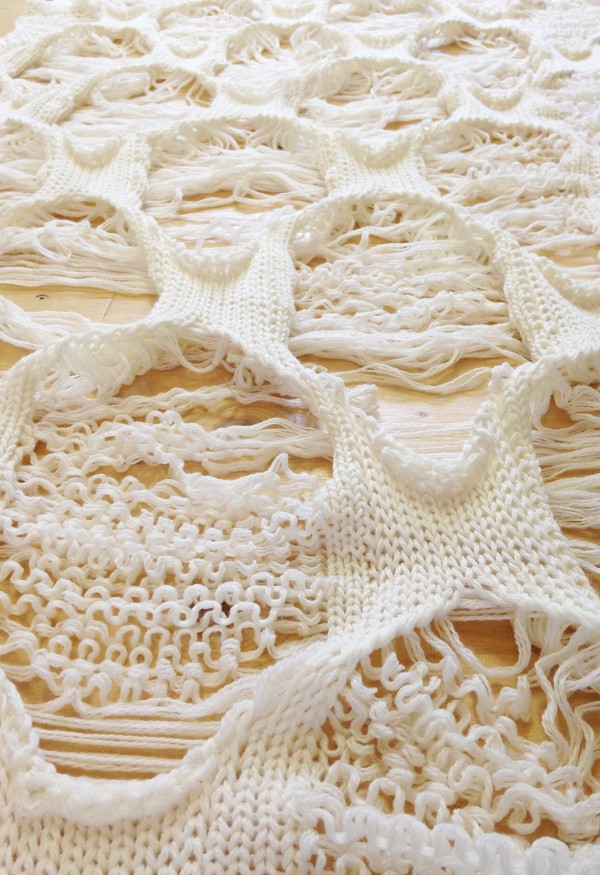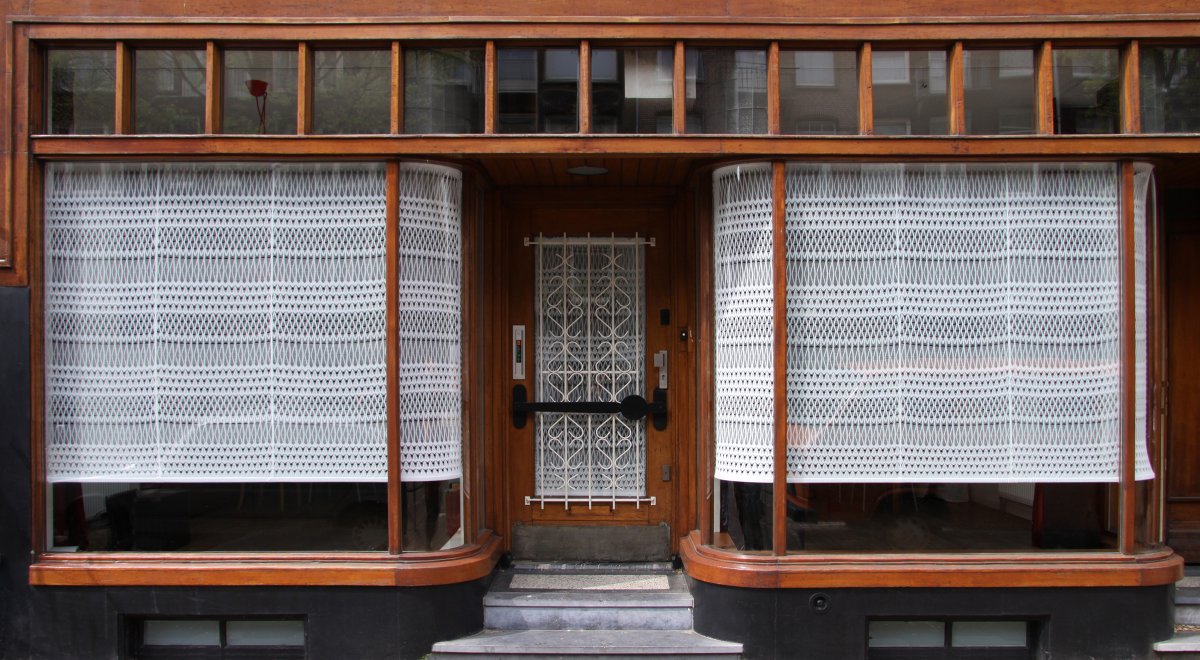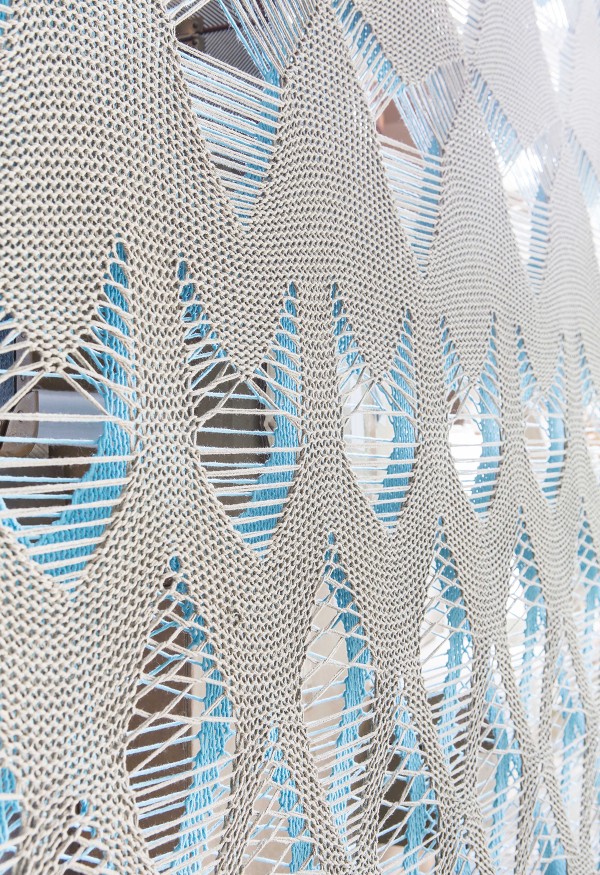 Can you walk us through the evolution of this project?
After my studies at the Design Academy in Eindhoven, Netherlands, I worked in the fashion industry for fifteen years designing pullover collections. But surrounded by all the consumerism in the fashion world, I decided to shift back to what I was trained to do at the academy: interiors.
This switch to interior textiles led me to the textile LAB in the textile museum Tilburg to experiment with knitting techniques and eventually to upscale knitted textiles. Project "Enjoy your window" (pictured above) would become the base pattern for all my future work. I designed the interior of a lace room in a small Parisian hotel room, with wallpaper and prints all over the place and a lace pullover for lighting. (pictured below)
Because of my need to experiment and after the realization of the cladding panel, which was the most stiff-knitted piece of textile, I searched for more material with this typical sturdy property - I started using the material rattan.
In my search for materials with stiffness and stability like the rattan, I found a 100% woolen yarn which, after knitting, could be felted by washing. This technique resulted in beautiful and unique felted structures and ultimately solved acoustic problems in the form of acoustic tapestry panels.
Twenty-five years of experiments with materials like wool, rattan, raisin, and prints and experiments with construction and material properties research gave me a lot of technical and material knowledge. The need to make original unique materials brings a lot of work. The step to industrial felt was logical since the discovery of the thick knitted woolen felt for the wall tapestry. My thought was: why make the material when I could simply buy it?
And so the structure Plectere was born: a stabile textile with excellent acoustics performance. Royal Ahrend was an early adaptor of Plectere. The big frames are actually window sliders with acoustic function. This brings texture and warmth, dampens sound, creates calm, comfort and tactility, provides privacy without hermetically sealing off spaces through its transparency.
Because the structure of Plectere still behaves like a fabric, particularly in its flexibility, it has the ability to create many different shapes. Plectere is easy to adjust according to the form of the room and can easily be used in any space.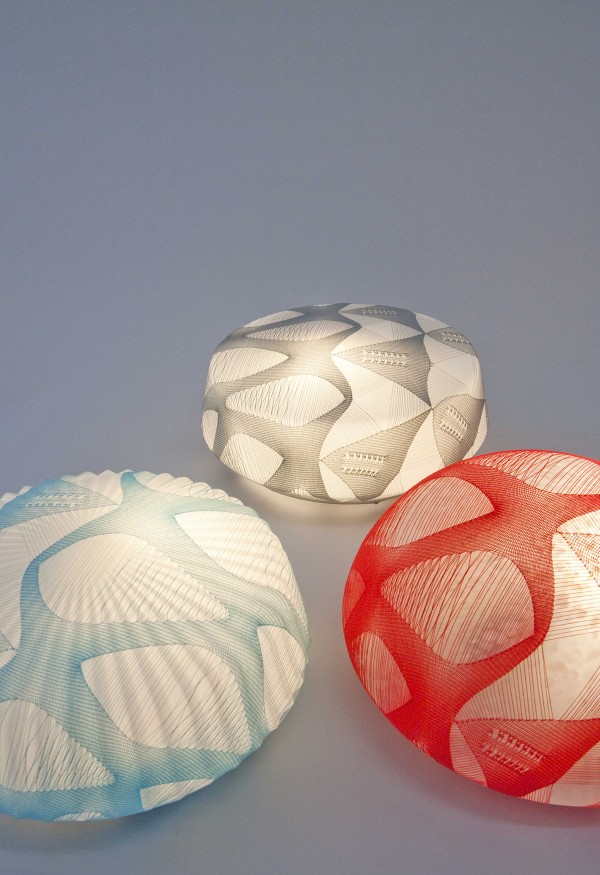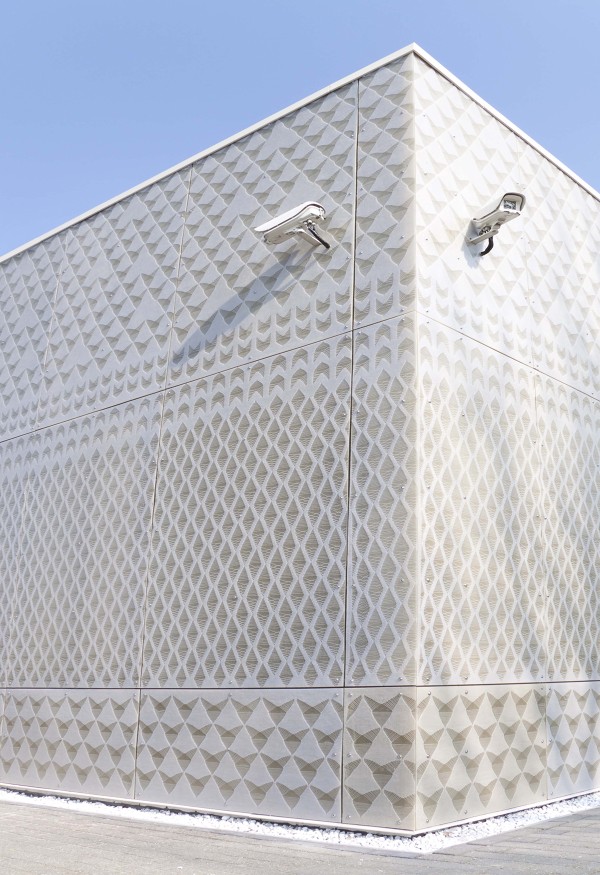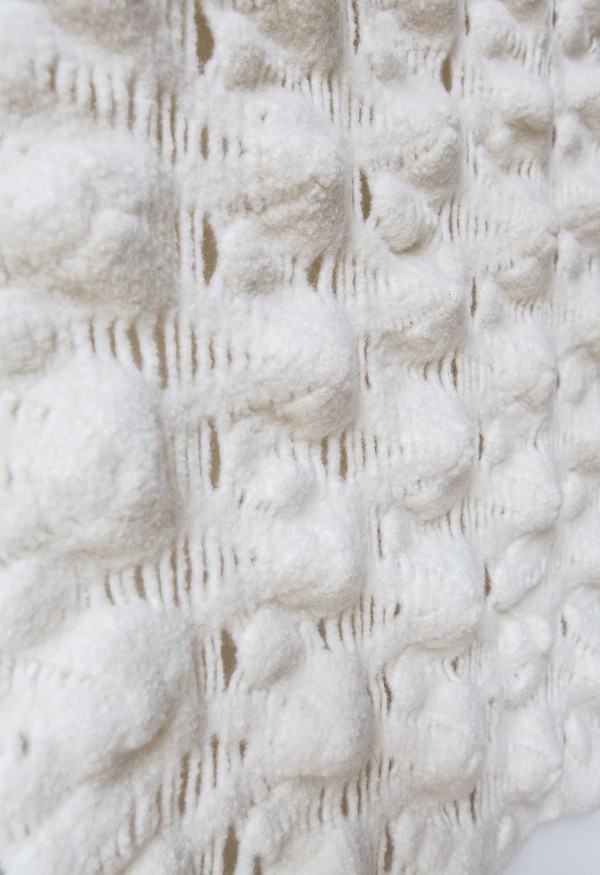 Are there any iterations you can share that didn't work but led to the final product?
All of my experiments with the rattan were very important to see the three-dimensional zig-zag shape evolve. And the knitted felt fabric panels which I developed with the intriguing structures were the last key towards the use of felt. I never used felt before that. Making the felt fabric myself was quite a failure. (haha)
How do you power through the process when what you're trying simply isn't working?
As a designer, you have to use your imagination and your endless stamina to make experiments. In my case, I don't do much sketching on paper; I just start with materials right away. Experimenting with materials helps me to create. Even when things don't work out the way I want or expect, it gives me insight into the limitations and possibilities of the material. This can be very motivating.
What makes felt a good fit for this product in a way that other materials simply wouldn't?
Felt is a very sturdy, compact material, but is also soft and has a great natural look. Normally in a knitted panel, there is stretch and elasticity, but the combination of felt with this particular structure, we got rid of all the stretch. This results in a sable panel - very handy in interior applications. At the same time, the flexibility of felt helps with the making of all the curves.
When you approach a new design, where do you start? (sketching, working directly with the material, digital rendering, etc)
I start with a material, and from there, I experiment until I find a nice shape, product, and texture. I don't do much sketching on paper -I just start with materials right away. Experimenting with materials helps me to create. In a sense, I sketch with the materials, either on the hand knitting machine or in other ways.
What are you working on now - can you share any sneak peeks of upcoming projects? What has you excited about the coming year?
I am working on translating the Plectere structure with different materials like recycled leather and wood. I recently moved to a new, bigger studio, and I would like to turn this space into a small Plectere factory/design studio where I, and my assistants, can experiment without limitations of size. And the idea of working with diverse materials always excites me.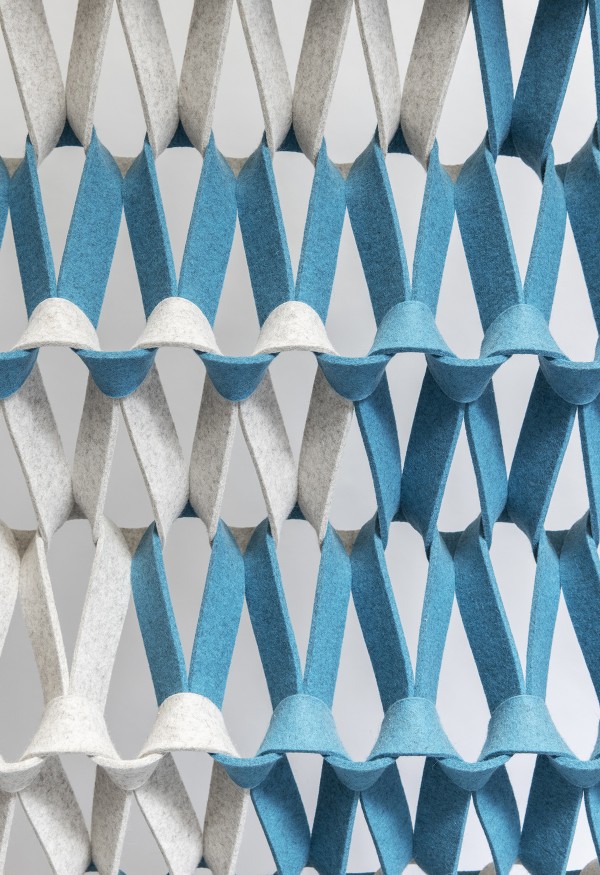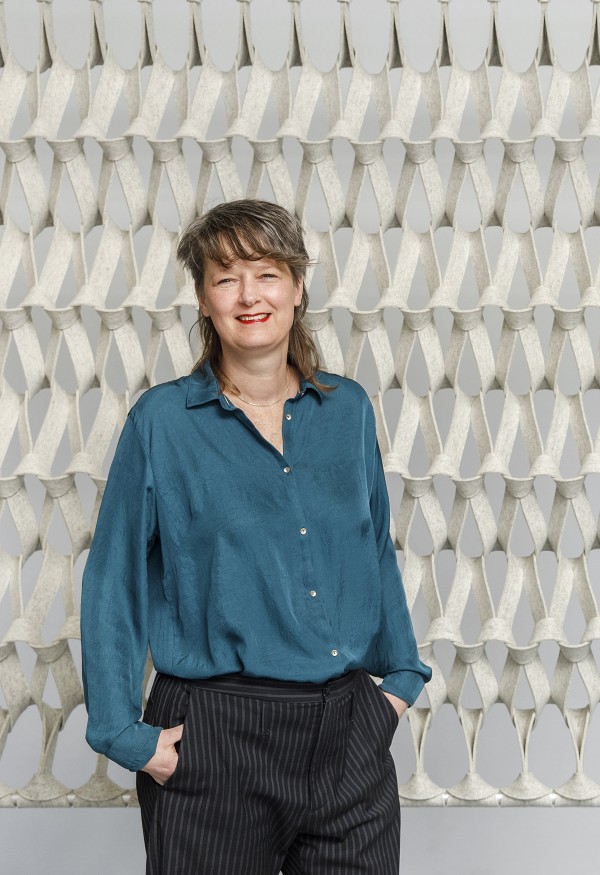 About Petra Vonk
Petra Vonk has spent her career studying and perfecting the art of knitting. This Dutch textile designer launched her Amsterdam design studio in 1997 after graduating from the Eindhoven Design Academy. Initially working as a knitwear designer for international labels, she became frustrated by the impermanence of fashion so began focusing on scaling up her knitted works for use in interiors and architectural projects.
While employing technology with traditional knitted craft, Petra creates often new and unexpected concepts and applications. Through the use of repetition in abstract patterns, her designs experiment with transparency. Her design objects have expressive visual and tactile qualities with an emphasis in functionality, be it to enhance the acoustic properties of a space or offer intimacy within an interior through impenetrable graphic patterns.