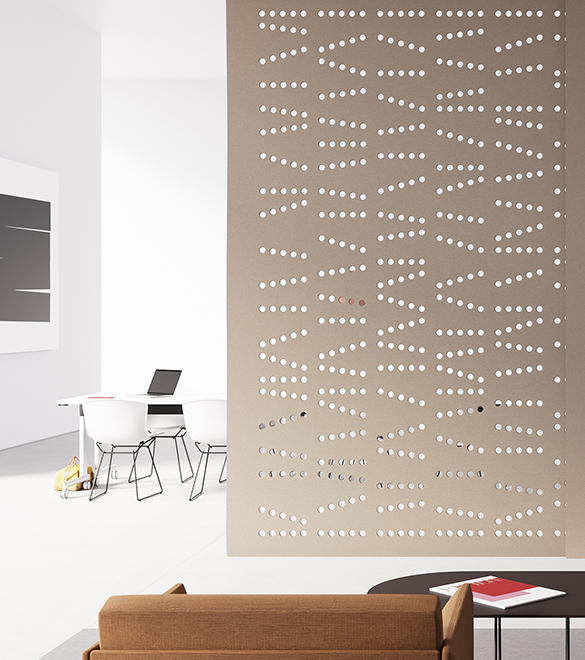 Behind the Design
The Wander Collection
Every city neighborhood is covered in lines, patterns, and textures found on manhole covers to crosswalks and traffic signals—objects that the majority of us tend to walk by without much notice. But Boston-based product and textile designer (plus FilzFelt co-founder!) Kelly Harris Smith zeroes in on these seemingly mundane objects for design inspiration. For years Kelly has explored the city, taking careful notice of the lines and patterns overhead and underfoot, snapping pics, and adding to her growing library of photos that has served as the basis for so many of her product and textile designs.
The Wander Collection is no exception. Inspired by her neighborhood surroundings and the roads, sidewalks, traffic signs, and railroads that fill it, the series of felt hanging panels reflect the designer's fascination with the patterns she wanders past every day.
We chatted with Kelly about her obsession with these patterns and how they inform her work and the Wander Collection specifically.
Tell us a little about your background as a designer!
I studied architecture in college and later started a product design company using wool felt in my mid-twenties. Discovering our shared love of wool felt, I founded FilzFelt with Traci Roloff. In 2017, I started my namesake studio (Kelly Harris Smith) and have been consulting and collaborating with companies in textiles, lighting, and furniture ever since. In 2018, I opened Minni, a creative community space, teaching art and design to children in Boston.
When starting the process of designing a new product, where do you look for inspiration?
It depends on the product, but I'm pretty obsessed with pattern, texture, and color and hunt for those every day, particularly in the city. Traveling to new places, which hasn't happened in a while, has always been a great source of inspiration. Utility covers in London, tiles in Porto are a few examples.
Considering how a product is used is typically the starting place when I begin the process of designing a new product or collection. With previous collections, the consideration for privacy at seated vs. standing areas of a space was a big driver for the placement of the openings in each panel.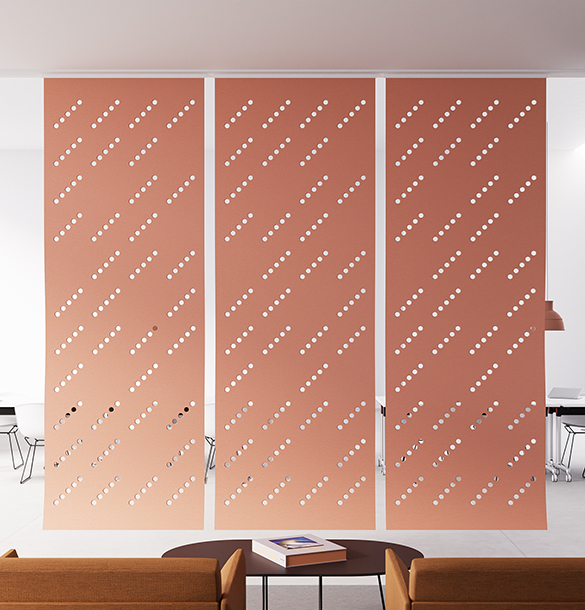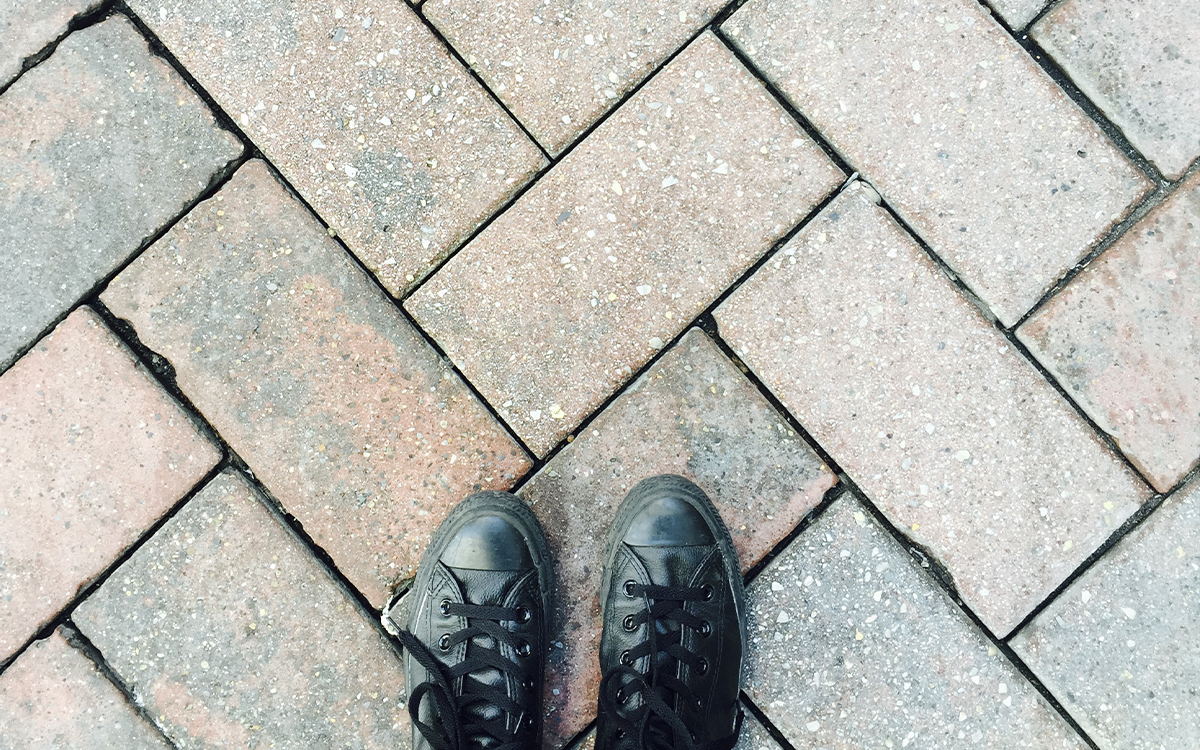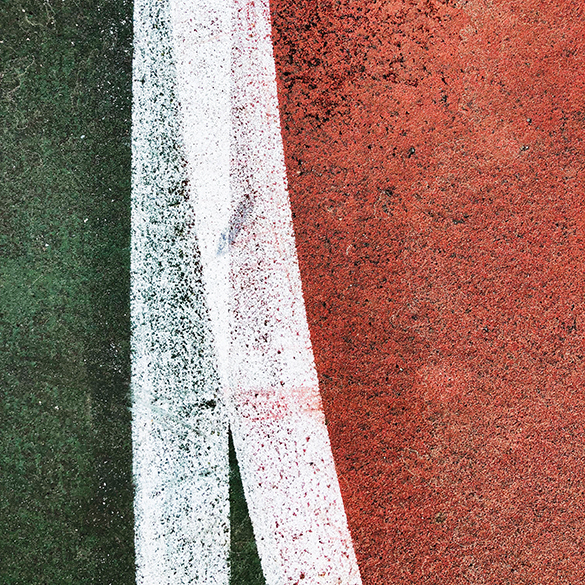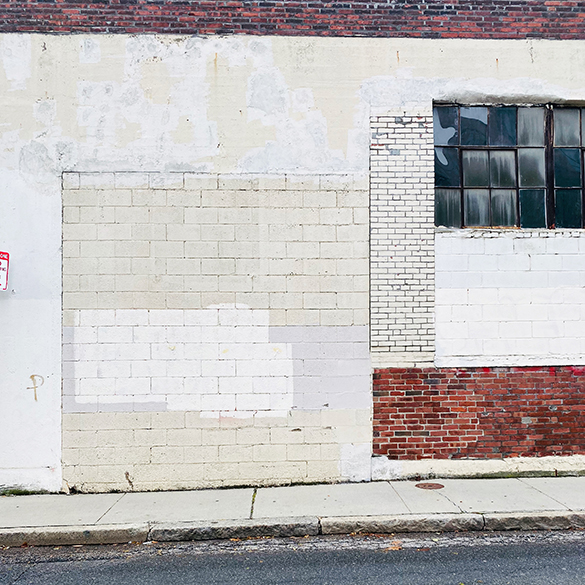 What inspired this series specifically?
This series is about movement and travel, taking inspiration from the roads, train tracks, traffic signals, crosswalks, and building facades of the cities I wander.
I also really love dots and stripes, specifically creating stripes out of dots. With these felt hanging panels, in particular, I know that it's not possible to cut straight, vertical lines out of felt because it will sag, so dotted perforations were the solution for this series of panels.
Each of the panels uses dotted lines to create movement and patterns inspired by my surroundings in Boston. Crossing and Merge both take inspiration from the crossing and shifting of train tracks and rail lines. Roam and Traverse were inspired by grids, pavers, and sidewalk patterns I've observed traveling. And Shift and Yield were inspired by movement, travel, and the shifting lines and angles created by traffic signs and signals.
Can you walk us through the evolution of these designs?
For this series, I set up my drawings in a pretty tight grid and set up rules that I tried to adhere to. I love a bit of random spacing here and there, but it's ultimately not random. There's been some math involved.
What feelings do you want these panels (and your work in general) to elicit and bring to a space?
Hanging panels are an amazing way to divide space, add texture and color, and insulate noise. The pattern is just the icing on the top.
You've worked with a lot of materials throughout your career as a product designer. What do you love about felt, and what makes this material a good fit for your work?
My favorite part about wool felt is that the edges cut so cleanly, and there's no need for finishing. It's the perfect material for this particular type of product and lends itself to a wide variety of patterns and designs. I also love that it's 100% natural, sustainable and biodegradable.
"This series is about movement and travel, taking inspiration from the roads, train tracks, traffic signals, crosswalks, and building facades of the cities I wander."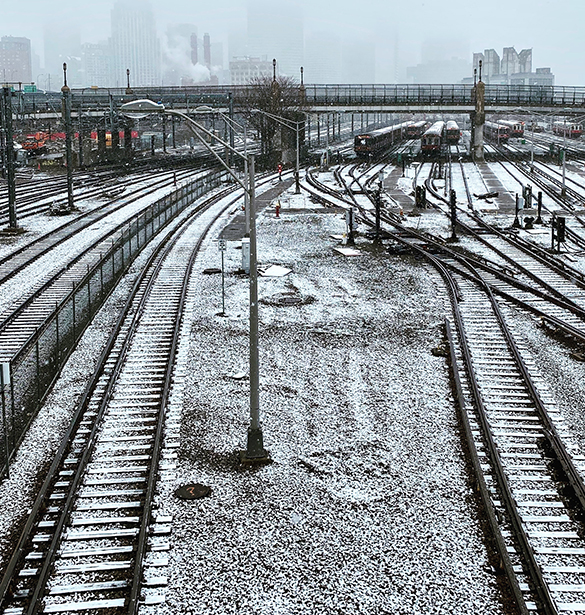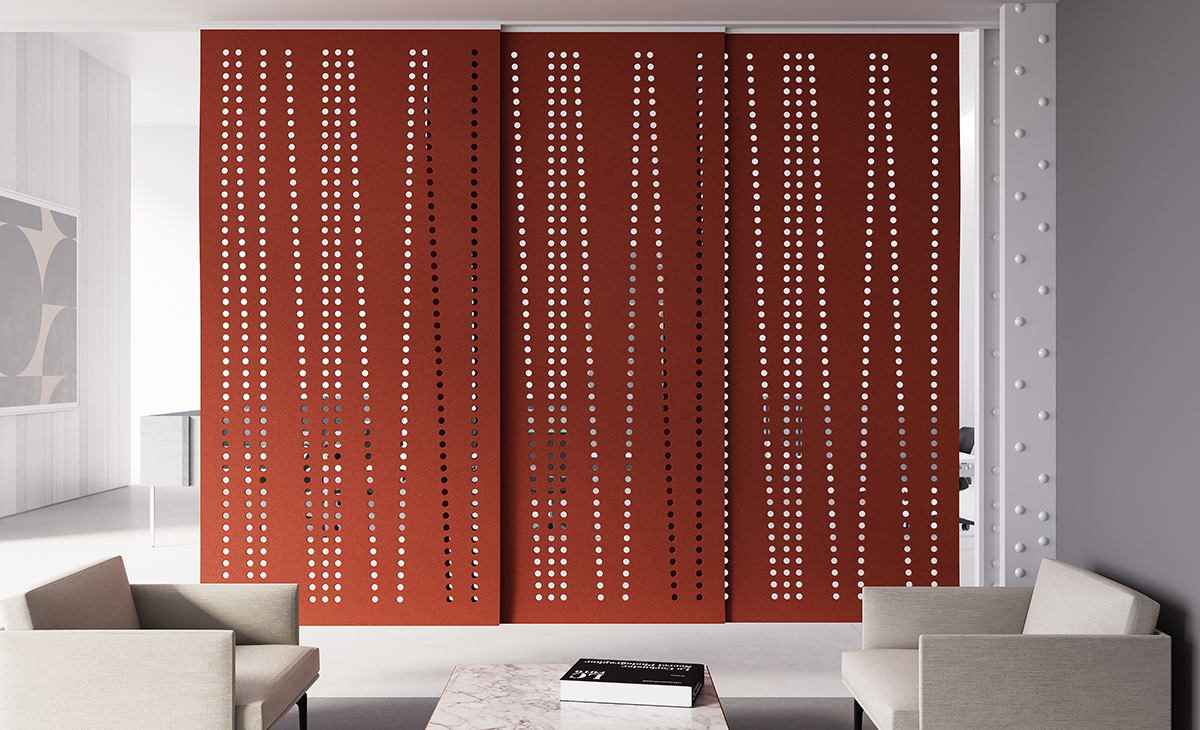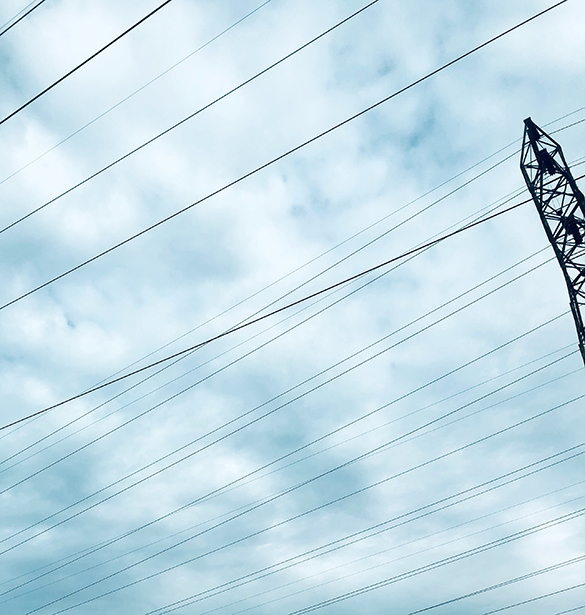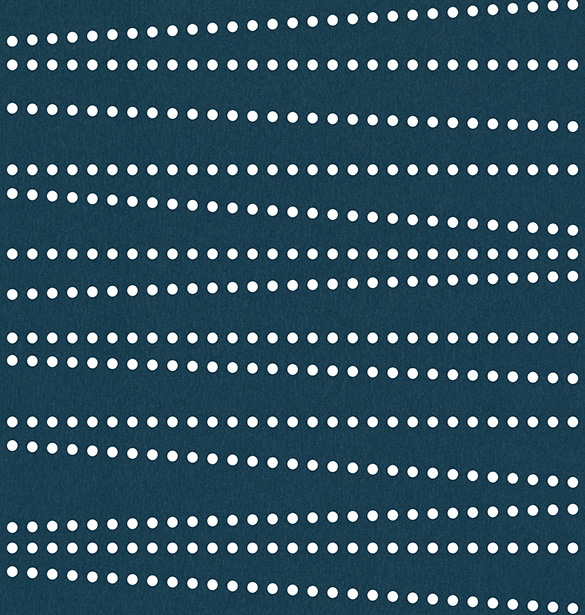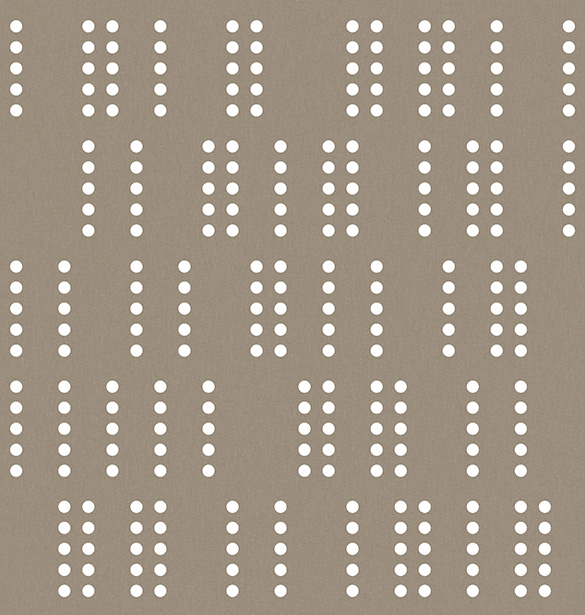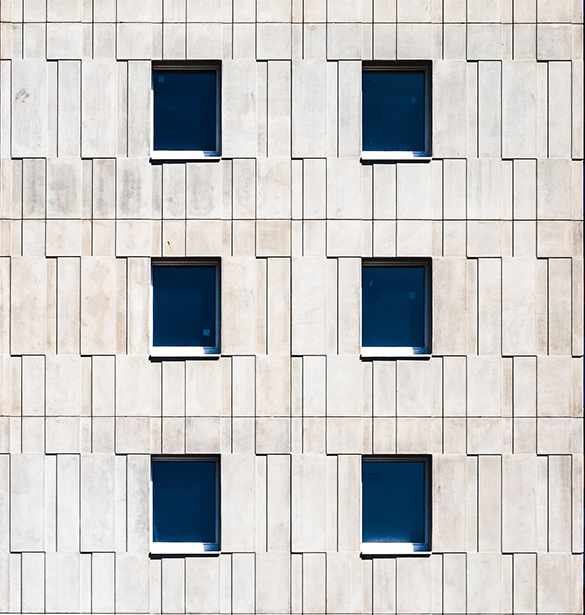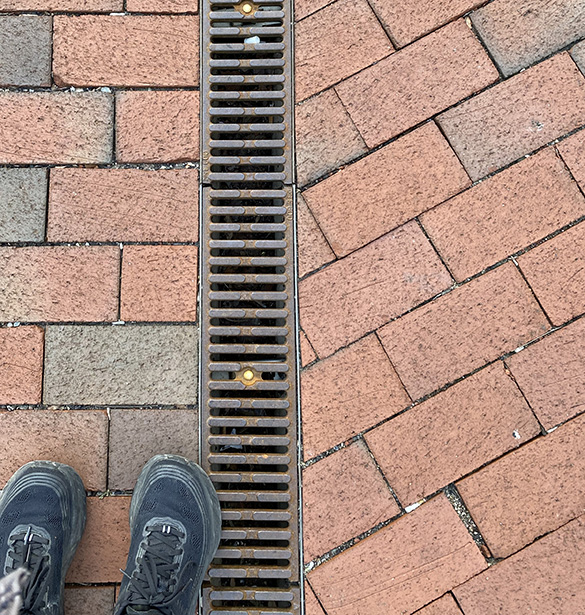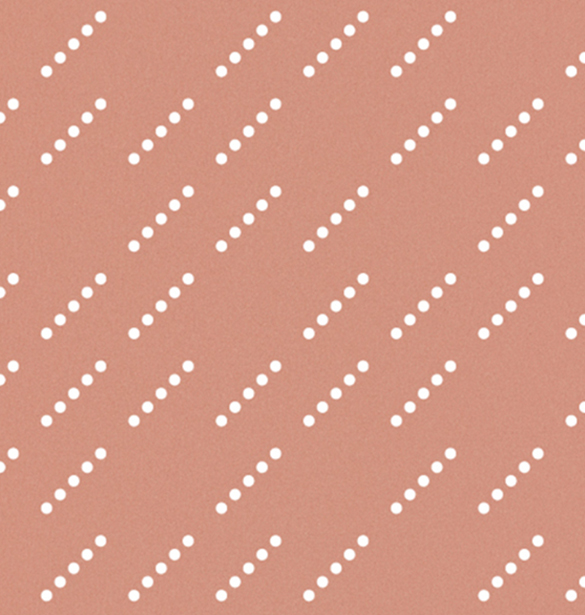 "I'm obsessed with pattern, texture and color and hunt for those, particularly in the city. Traveling to a new place, which hasn't happened in a while, is always a great source of inspiration."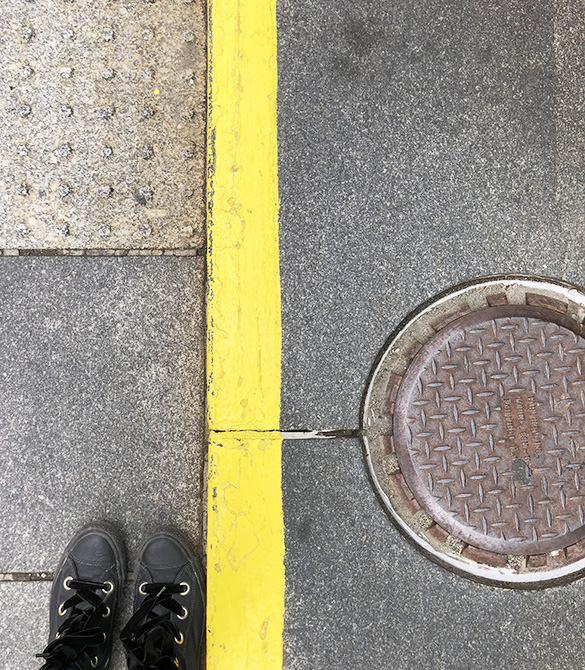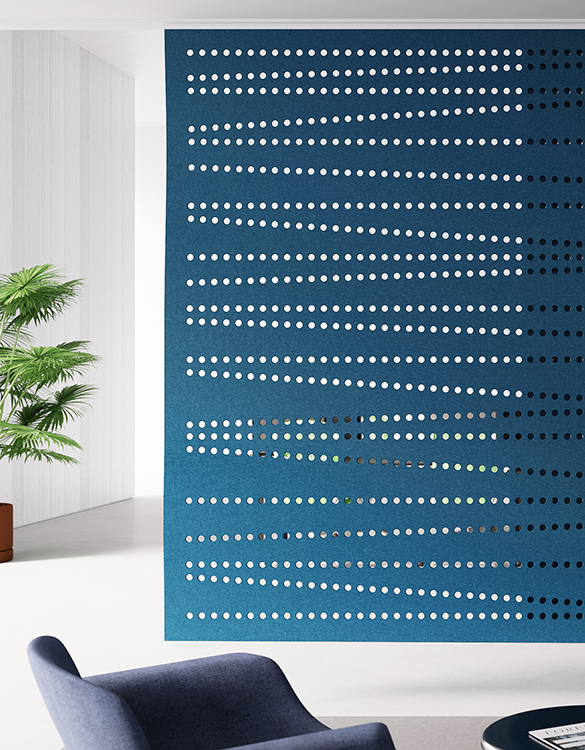 How has life in Boston impacted your approach to design and overall aesthetic?
I've lived in Boston for twenty-plus years, and while I know my way around, I'm still discovering new places and things to inspire me all the time. I'm constantly searching for new patterns, colors, and lines in my daily life, exploring this city. Even the smallest corners of my own neighborhood are filled with patterns and textures that can be often overlooked but always stop me in my tracks.
What does a typical day in your studio look like?
A typical day? Ha! There's no typical day! I'm generally running around between Minni (the community art center I founded three years ago), my studio, a bit of WFH while maybe tackling laundry, catching up on emails and drinking too much earl grey tea, taking the dog on walks and spending way too much time with my kids at local parks and playgrounds (where sometimes great inspiration strikes!).
What projects are you working on that have you excited for the year ahead? Can you share any sneak peeks of what's to come?
I am working on some exciting lighting and furniture projects but I'm also writing a book! The big project now taking all of my time is co-authoring and designing a book with my husband called The Universal Principles of Interior Design. We hope it will be a great resource for interior design students and practitioners, and it's out this November.
About Kelly Harris Smith
Kelly Harris Smith is an independent designer and creative director specializing in natural and sustainable materials in commercial and residential interior design. By balancing intricacy and simplicity, Kelly's designs are distinctive for their pattern, color, and innovative functionality.