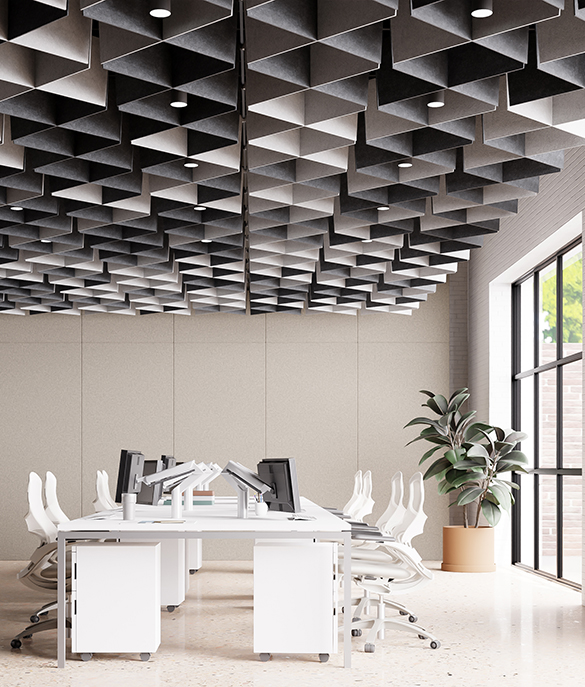 Behind the Design
ARO Grid
ARO Grid takes on the conundrum of masking all the eyesores overhead while keeping the design bar high. While typical ceiling systems simply hide the inner workings of a building, ARO Grid is a series of acoustic ceiling products that balance form and function in modular products that allow multiple color options, customization, easy installation with a standard drop ceiling grid, all while being budget-friendly.
Designed by Architecture Research Office, a Manhattan architecture firm who has faced these challenges themselves, ARO Grid comes in four dynamic patterns. We caught up with the team behind FilzFelt's latest acoustic ceiling launch to learn more about the inspiration behind the project.
What feelings do you want this design (and your work in general) to elicit?
We strive to convey a sense of calm, warmth, and joy in our product designs as well as through the architecture we design.
Where do you look for inspiration when starting a new project?
We take inspiration from both material expression and functionality in all new projects. We work to elevate spaces through careful attention to detail and use, and to emphasize the responsible use of materials. We seek to balance beauty and strategy through design; pattern and texture with acoustic performance; color and light with inventive solutions. With our products, we also look for ways to reuse post-industrial remnants at FilzFelt's manufacturing facility.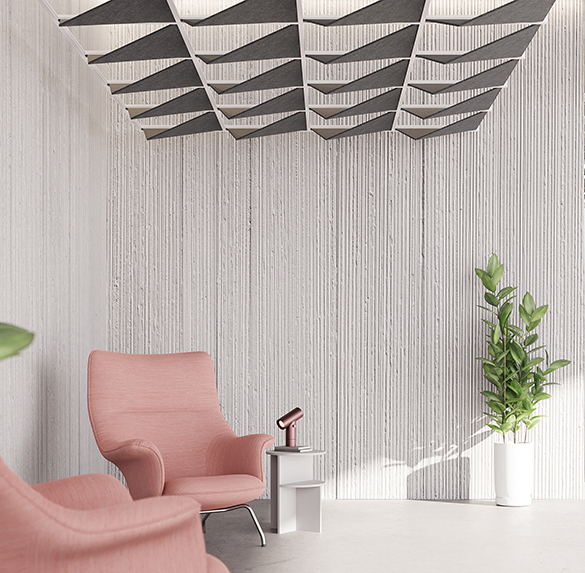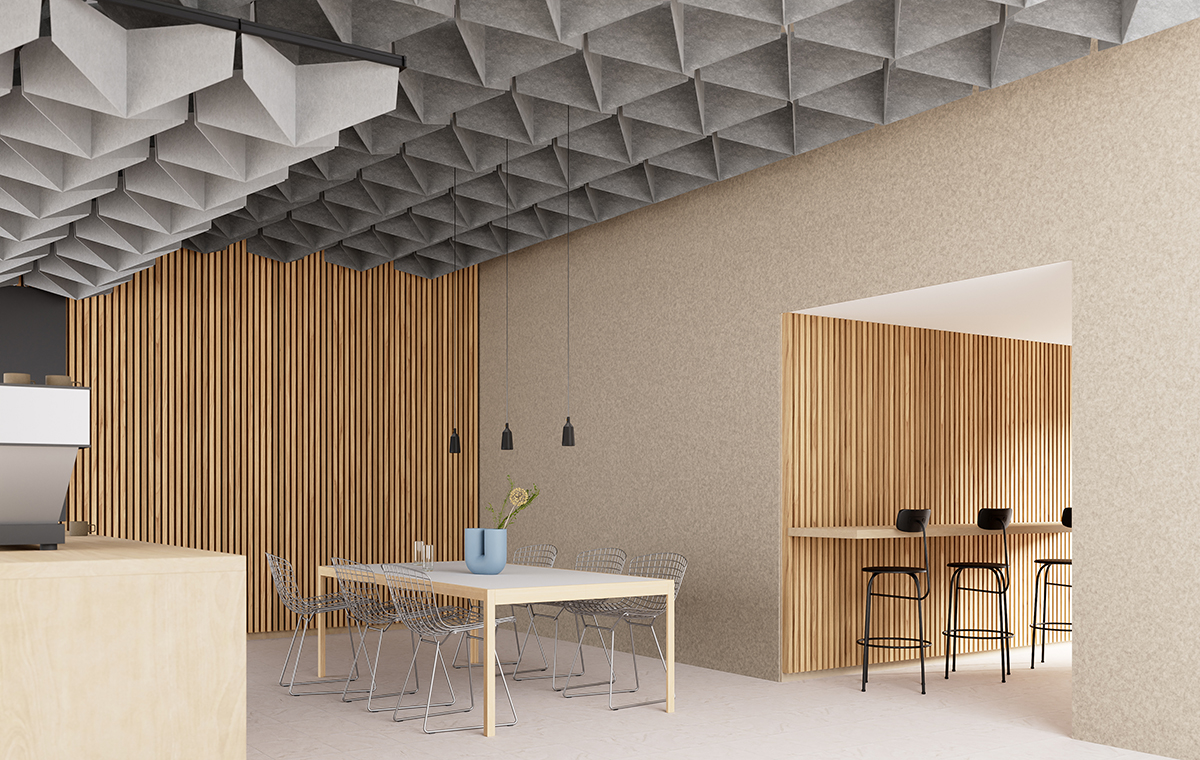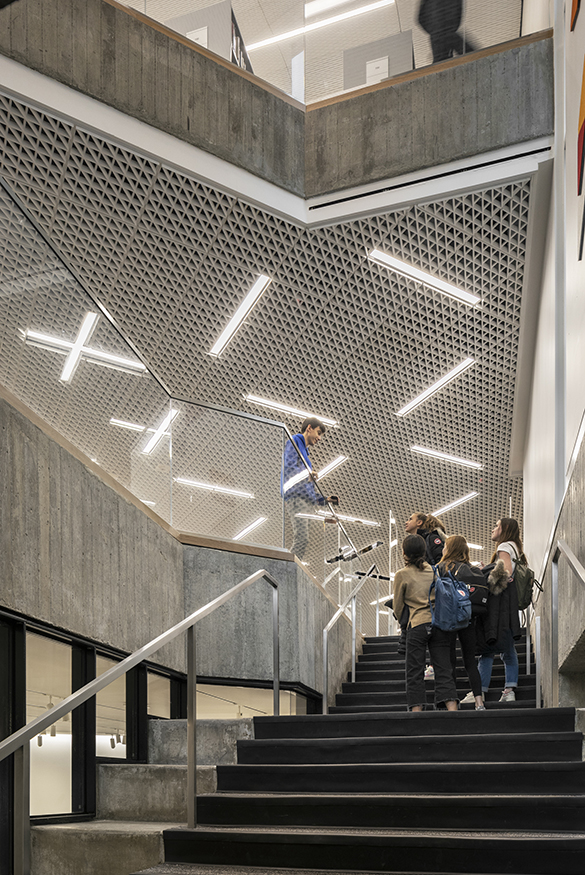 What inspired the design for the ARO Grid collection specifically? How did these come into being?
As architects, we've long been interested in transforming everyday materials. A driving question behind the ARO Grid design was how to develop a cost-effective product that elevates the ubiquitous 2'x2' ceiling grid to create spatial richness. In several past projects we explored bespoke ceiling elements that fit within a typical 2'x2' ceiling grid and also expressed larger patterns. Our aesthetic goal was to create a sense of openness and continuity in the ceiling, in contrast to the technical nature of the grid, where lighting, sprinkler, and HVAC systems are typically found.
The result is a product that shields views to equipment above and that defines the ceiling through pattern and materiality. Providing optionality for designers to arrange products in different ways is reflected in the designs which enable the directionality of the product pattern to dramatically shift the visual experience of the ceiling.
(Pictured left: Ceiling application at the Tate Library of the Ethical Culture Fieldston School (ECFS) in the Bronx)
"There is an aesthetic goal to create a sense of openness and continuity in the ceiling, contrasted with the technical nature of the grid, where lighting, sprinkler, and HVAC systems are typically found."
Can you walk us through the evolution of this project?
We have been interested in solutions for the ceiling grid from the start of the ARO Collection. ARO Grid balances both beauty and economy by combining a bespoke ceiling element within a typical 2'x2' suspension grid. This project grew out of prior product explorations, continuing the trajectory of our ceiling baffles as well as ceiling assemblies we explored on past interior projects. Through sketches, models, mock-ups and many iterations, we develop initial concepts and drawings for prototypes. This leads to a team visit to the factory and a two-day workshop to quickly refine and develop new ideas on-site.
(Evolution of ARO Grid 4 right and below)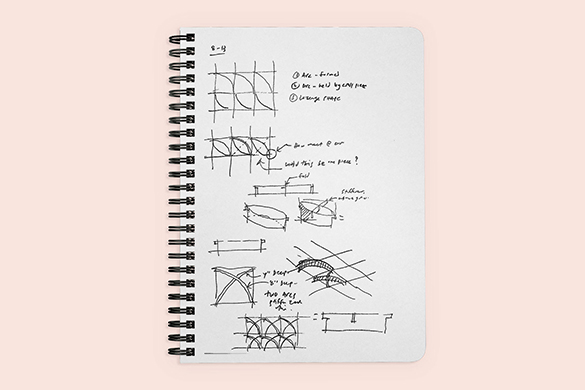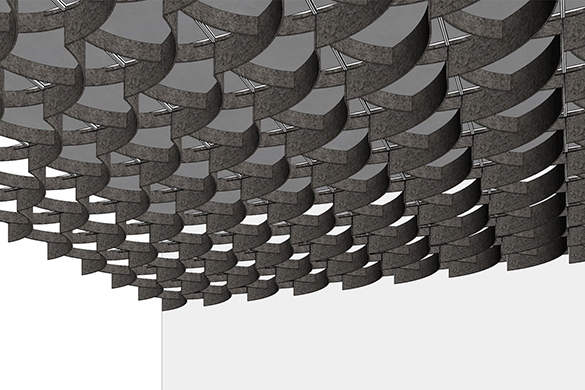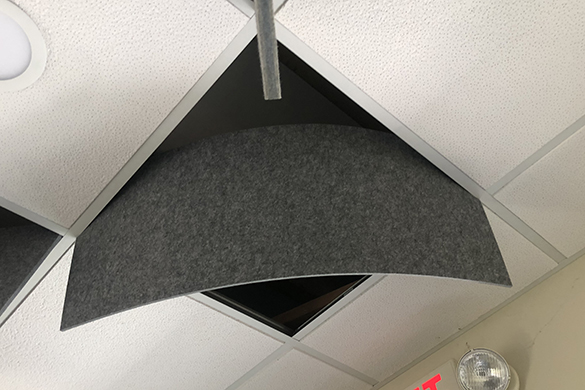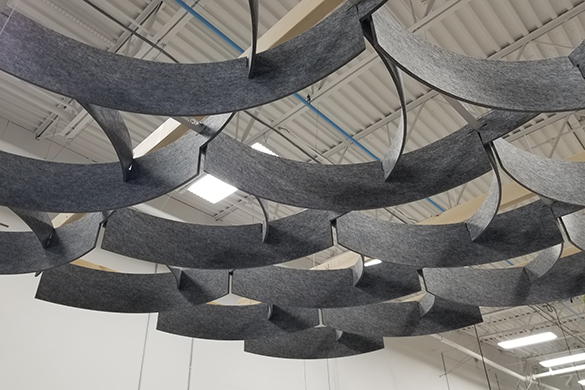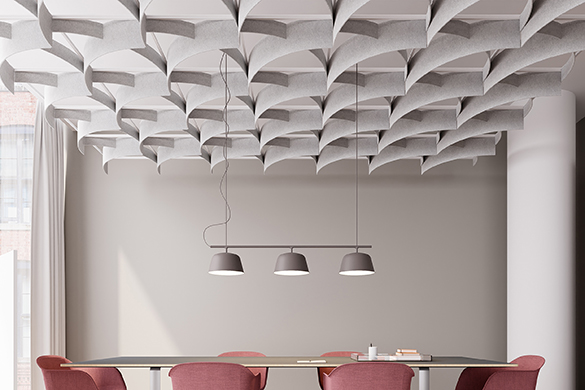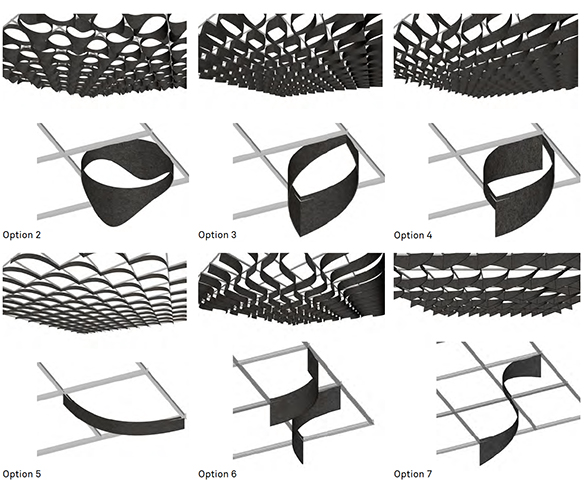 Are there any iterations you can share that didn't work, but led to the final product?
We worked through many iterations, from flat studies to three-dimensional studies that did not ultimately work. This rigorous process leads to the final product.
(Examples shown left)
Was there a breakthrough moment? How do you power though the process when what you're trying simply isn't working?
We always look forward to worksessions to test and try different ideas. We like to keep these fun and unexpected ideas inevitably pop up throughout the process. For example, while we originally designed Grid 3 as one single curve, we realized in testing that two curved forms could stabilize each other. Our visit to the factory and the two-day workshop that follows allows us to quickly test prototypes and develop new ideas within the 2'x2' grid directly on-site. The designs for Grid 3 and Grid 4 (pictured right) both evolved this way.
When you approach a new design, where do you start? (sketching, working directly with the material, digital rendering, etc)
Brainstorming typically kicks off a new design, talking through general materials and the design problem we are trying to solve. From sketching, to digital model options to physical model studies in paper, we test ideas early and often.
From start to finish, how long did it take to get to the final design we see today?
As mentioned earlier, the idea of a ceiling grid product has bounced around since the start of the ARO Collection back in 2014. We have developed the product idea alongside the machinery's capability over the years: we created original studies in the form of flat patterns, we then looked at material patterns in a completely different strategy, we began to explore studies with three-dimensional shapes in 2018, and seriously developed the product in its current form in 2019.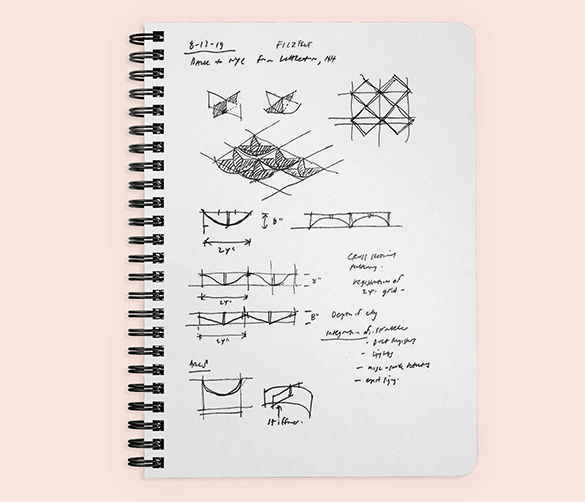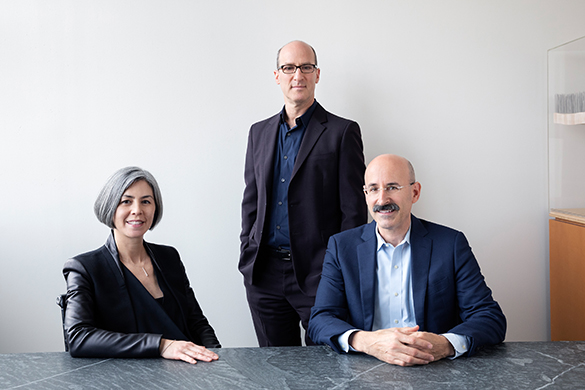 About Architecture Research Office
Architecture Research Office (ARO) is the New York City firm dedicated to architecture that unites beauty and form with strategy and intelligence. The firm's diverse project portfolio - spanning strategic planning, architecture and urban design - is united by a principled and engaged approach to design, collaborative process and technical precision, always in an effort to achieve the greatest aesthetic impact while using the fewest natural and financial resources. This philosophy has earned the firm over one hundred design awards including the 2020 AIA Architecture Firm Award, the AIA New York State Firm of the Year Award, and the Smithsonian Cooper-Hewitt National Design Award for Architecture.